The holidays are a festive time of year filled with twinkly lights, friends, family, and typically, an abundance of decadent food, recipes and indulgent treats. While traditional holiday fare is undeniably delicious, foods like refined carbohydrates, sugary baked goods, vegetable oils, and alcohol increase inflammation in the body. This can be especially detrimental for those who suffer from inflammatory conditions like arthritis, or live with an autoimmune disease.
Just because you skip the buttery stuffing and pecan pie, however, doesn't mean you can't enjoy a delicious holiday meal. You can create some new traditions in your family by preparing food that tastes great and fights inflammation. To help you with this goal, we've rounded up six simple, anti-inflammatory recipes for the holidays that will delight your dinner guests without adding to your discomfort. Let's dig in!
1. Spinach Pomegranate Salad
Start your holiday meal off with this delicious, inflammation-busting salad by The Endless Meal. This mouth-watering salad is brimming with antioxidant-rich and anti-inflammatory ingredients, including pomegranate, spinach, mint, hazelnuts, and olive oil.
Serves 4
Ingredients:
Maple Balsamic Dressing
2 tablespoons olive oil
2 tablespoons balsamic vinegar
1 tablespoon maple syrup
½ teaspoon Dijon mustard
A pinch of salt and pepper
Spinach Pomegranate Salad
5 ounces baby spinach leaves
½ cup mint leaves
Seeds from 1 pomegranate
¾ cup hazelnuts, toasted and chopped
Directions:
Place all the Maple Balsamic Dressing in a jar and shake to combine.
Add the salad ingredients to a large salad bowl, pour the dressing over the top, and toss to coat.
Serve and enjoy!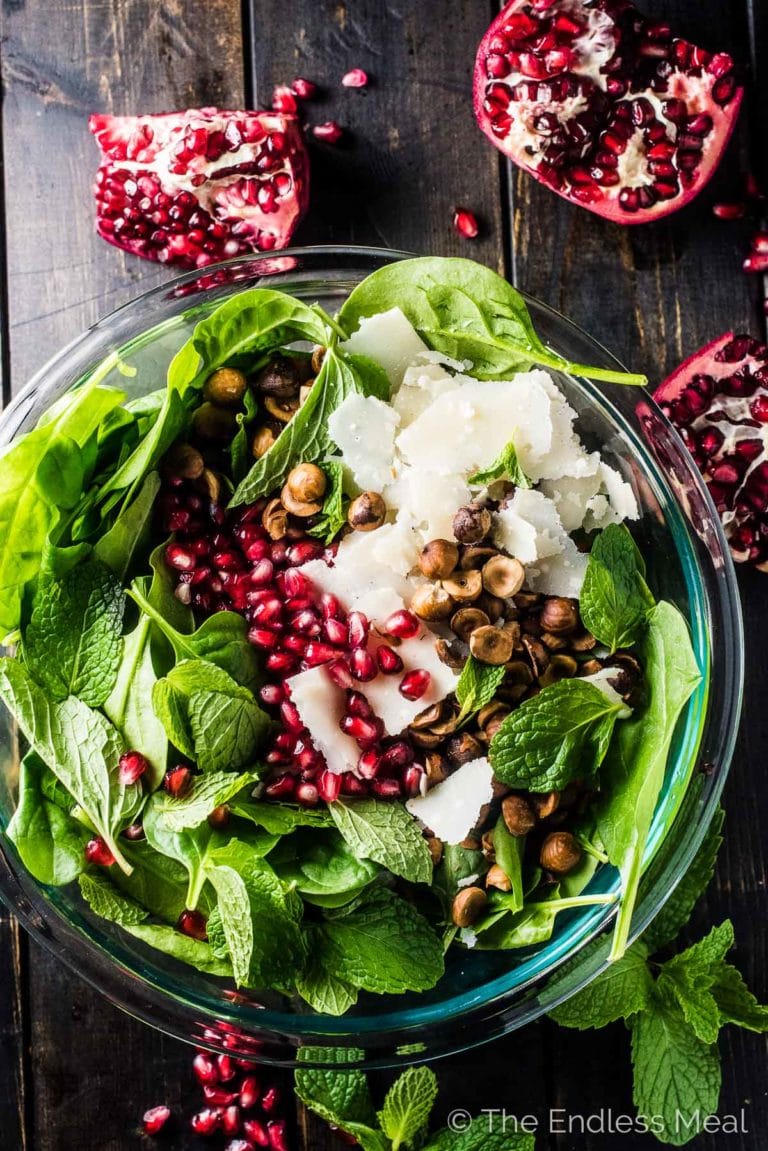 2. Thai Pumpkin Soup
With just five simple ingredients, this anti-inflammatory pumpkin soup from Foodie Crush has a sizzling Thai twist that will wow your guests. Even better? It can be ready to serve in under ten minutes!
Serves 2-4
Ingredients:
2 tablespoons red curry paste
4 cups chicken or vegetable broth
2 (15-ounce) cans of pumpkin puree
1 ¾ cup coconut milk, reserving 1 tablespoon
1 large red chili pepper, sliced
Cilantro for garnish
Directions:
In a large saucepan over medium heat, sauté the curry paste for about one minute or until it becomes fragrant.
Add the broth and pumpkin and stir. Cook for about three minutes or until the soup starts to bubble.
Add the coconut milk and cook for about three minutes or until hot.
Ladle into bowls and garnish with a drizzle of the reserved coconut milk, sliced red chilies, and cilantro.
Enjoy!
3. Balsamic Glazed Green Beans with Cranberries and Almonds
If you're looking for a simple, healthy side dish free of any inflammatory ingredients, look no further than these balsamic-glazed green beans by Lauren Kelly Nutrition. This veggie dish is anti-inflammatory and has a wonderful combination of flavors and textures.
Serves 4
Ingredients:
1 tablespoon balsamic vinegar
1 teaspoon raw honey or 100% maple syrup
2 cloves garlic, minced
1 tablespoon extra virgin olive oil
12 ounces green beans (ends trimmed)
2 tablespoons sliced almonds
2 tablespoons dried cranberries (no sugar added)
Directions:
In a small bowl, mix together the balsamic vinegar and honey. Set aside.
Place garlic and oil in a large skillet and cook on medium heat for 2-3 minutes, or until softened.
Add green beans and stir. Cook for about 10 minutes. The green beans should remain crisp and bright green.
Add balsamic mixture, almonds, and cranberries, and mix again. Cook for another 2 minutes.
Serve and enjoy!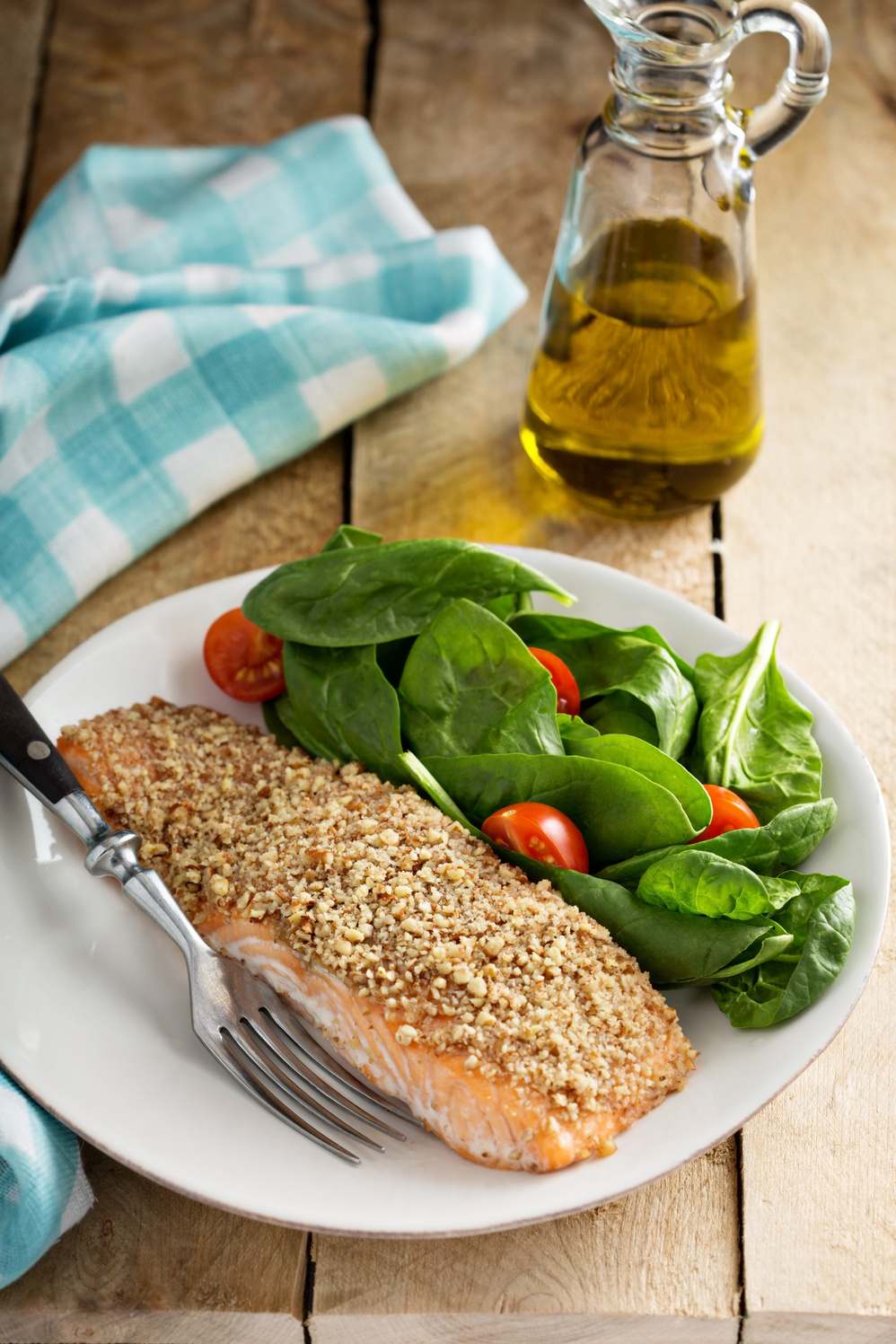 4. Walnut-Rosemary Crusted Salmon
For the main course, you can't go wrong with this walnut crusted salmon recipe by Eating Well. With its high content of anti-inflammatory omega-3s from salmon and walnuts, this dish is equal parts delicious and healthy.
Serves 4
Ingredients:
2 teaspoons Dijon mustard
1 clove garlic, minced
¼ teaspoon lemon zest
1 teaspoon chopped fresh rosemary
½ teaspoon honey
½ teaspoon kosher salt
¼ teaspoon crushed red pepper
3 tablespoons gluten-free panko bread crumbs
3 tablespoons finely chopped walnuts
1 teaspoon extra-virgin olive oil
1 (1 pound) skinless salmon fillet, fresh or frozen
Olive oil cooking spray
Chopped fresh parsley and lemon wedges for garnish
Directions:
Preheat oven to 425 degrees F and line a large-rimmed baking sheet with parchment paper.
Combine mustard, garlic, lemon zest, lemon juice, rosemary, honey, salt, and crushed red pepper in a small bowl. Combine panko, walnuts, and oil in another small bowl.
Place salmon on the baking sheet. Spread the mustard mixture over the fish and sprinkle with the panko mixture, pressing to adhere. Lightly coat with cooking spray.
Bake until the fish flakes easily with a fork, about 8-12 minutes depending on thickness.
Sprinkle with parsley and serve with lemon wedges.
5. Stuffed Sweet Potatoes with Walnuts and Pomegranate
These stuffed sweet potatoes by The Endless Meal are piled high with anti-inflammatory ingredients, including omega-rich walnuts, crunchy pomegranate seeds, creamy tahini, and fresh herbs.
Serves 4
Ingredients:
4 small sweet potatoes, about 2 lbs.
¾ cup chopped toasted walnuts
½ cup each: chopped mint and parsley
Seeds from 1 pomegranate
1 teaspoon olive oil
Tahini Lemon Sauce
¼ cup tahini
Juice from 1 lemon
1 clove garlic, finely minced
Sea salt, to taste
3+ tablespoons water
Directions:
Turn your oven on to 400 degrees F. Prick the sweet potatoes 5-6 times each with a fork and set them on a baking sheet.
Place the potatoes into the oven (no need to preheat) and bake them for 45-60 minutes, or until they're soft. When they're done, remove them from the oven and set them aside to cool slightly.
While the sweet potatoes are cooking, prepare the topping. Place the walnuts, mint, parsley, and pomegranate in a medium-sized bowl, drizzle with olive oil, and toss to combine.
Wisk the Tahini Lemon Sauce ingredients in a small bowl, adding enough water so that it's the consistency of honey.
When the sweet potatoes are cooled enough to handle, cut through the skin in a "t" shape. Gently mash the insides, then pile the walnuts and herbs on top. Drizzle with the Tahini Lemon Sauce.
Serve and enjoy!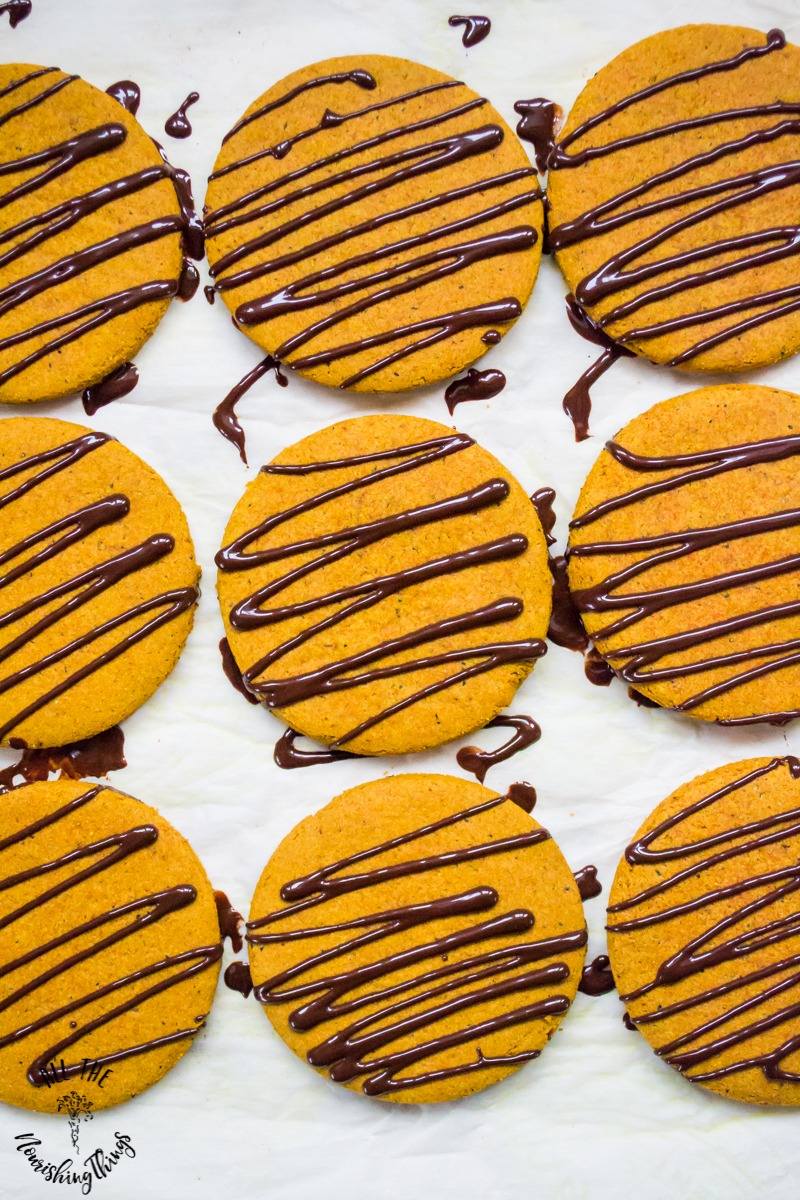 6. Ginger Spice Cookies
Don't think we forgot about a sweet treat! These taste bud-tantalizing cookies by All the Nourishing Things are brimming with anti-inflammatory spices, including turmeric, black pepper, ginger, and cinnamon. These healthy, chewy cookies are paleo and refined sugar-free, but shhhh—don't tell your guests because they'll never know! Plus, they're made with cassava flour so they're great for your gut health, too!
Makes about 18 cookies
Ingredients:
8 tablespoons palm shortening
3 eggs
2/3 cup coconut sugar
1 tablespoon organic blackstrap molasses
1 tablespoon ground turmeric
1 tablespoon ground ginger
1 tablespoon ground black pepper
2 teaspoons ground cinnamon
½ teaspoon orange extract
½ teaspoon salt
½ teaspoon baking soda
1 ½ cups cassava flour
Instructions:
Preheat your oven to 350 degrees F and line two cookie sheets with parchment paper.
Combine palm shortening, eggs, coconut sugar, and molasses in the bowl of a stand mixer fitted with the paddle attachment.
Whip together on medium speed until smooth and combined.
Add the spices, orange extract, salt, and baking soda and continue mixing.
Add the cassava flour and mix until the ingredients come together to form a dough.
Lay a piece of parchment paper on a flat surface and using a rolling pin, roll the dough out to about 1/4" thickness.
Use your cookie cutter of choice to cut out cookies.
Bake for 13 to 15 minutes or until golden.
Transfer immediately to a cooling rack and cool completely.
Note: To take these cookies to the next level, make a dark chocolate drizzle by melting ¼ cup dark chocolate chips with 1 teaspoon coconut oil. Whisk until smooth then drizzle over the cookies.
Another way to keep inflammation at bay
In addition to whipping up the above recipes, another easy and effective way to tame inflammation is by taking a supplement that contains anti-inflammatory ingredients, such as JointFuel360. This oral supplement combines research-backed ingredients, including turmeric root, Boswellia serrata extract, resveratrol, collagen (type II), black pepper extract, and hyaluronic acid. These ingredients work together synergistically to quell inflammation so you can enjoy your holiday season and live a healthier, happier life.
The bottom line
While many traditional holiday dishes may be triggers for inflammation, you can still enjoy your holiday with these delicious, anti-inflammatory recipes. Just because they're healthy doesn't mean they skimp on flavor! All of these inflammation-fighting recipes taste indulgent while still being healthy and would make a great addition to your holiday table. Bon appétit!
References:
https://www.healthline.com/nutrition/6-foods-that-cause-inflammation#5.-Excessive-alcohol
https://www.theendlessmeal.com/spinach-pomegranate-salad/
https://www.foodiecrush.com/5-ingredient-thai-pumpkin-soup/
https://laurenkellynutrition.com/balsamic-glazed-green-beans-with-cranberries-and-almonds/
https://www.eatingwell.com/recipe/267223/walnut-rosemary-crusted-salmon/
https://www.theendlessmeal.com/stuffed-sweet-potatoes/
https://allthenourishingthings.com/paleo-anti-inflammatory-spice-cookies/