Everyone loves dessert. However, a lot of desserts cause inflammation in the body. Thankfully, there are also quite a few anti-inflammatory desserts that you can enjoy. That means you can enjoy delicious treats without worrying about expanding your waistline or increasing the inflammation in your body. In fact, some anti-inflammatory desserts are quite healthy! That's why we've put together eight anti-inflammatory desserts that are both easy to make and delicious to eat.
If you have arthritis, you know all too well how debilitating the aches and stiffness can be every day. You probably would love to enjoy some delicious treats here and there. After all, food is one of those things we all take comfort in. You're in luck because we have a surprise for you. Here are eight anti-inflammatory desserts that you can enjoy while reducing inflammation that causes joint pain.
Blueberry Lime Cheesecake
Blueberries and limes both contain antioxidants that can help reduce joint pain. Nuts and coconut cream, on the other hand, contain powerful anti-inflammatory properties that will help reduce joint inflammation. All of these ingredients can be put together to make a sensational blueberry lime cheesecake. Besides being a healthy dessert packed with antioxidants and anti-inflammatory compounds, it's incredibly delicious! You can get the recipe for this anti-inflammatory dessert here.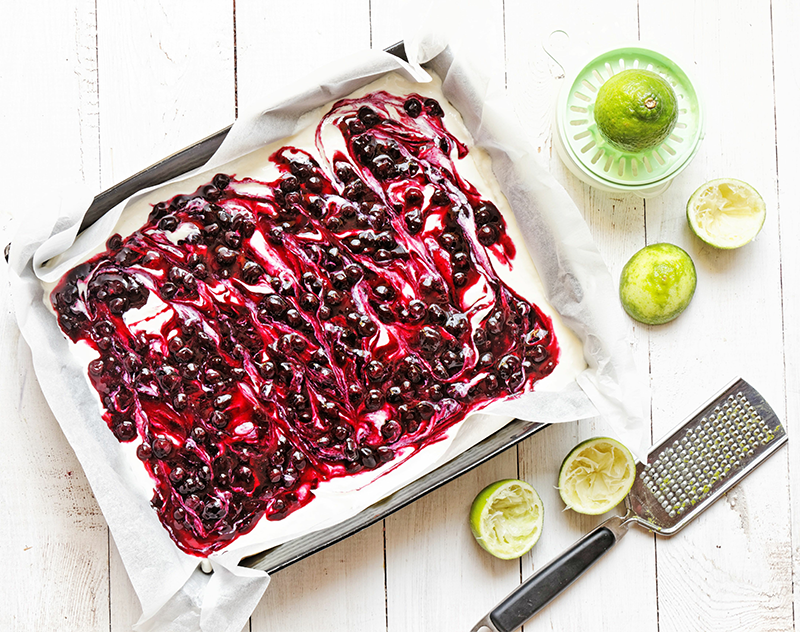 Cookie Dough Freezer Fudge
This could be one of the most mouth-watering anti-inflammatory desserts on our list. Cookie dough freezer fudge sounds like it wouldn't be on this list. However, when made with almond and coconut flours, as well as dark chocolate and collagen peptides, it's actually quite healthy! You get the sensation of eating cookie dough while getting healthy fats and even additional collagen to support healthy joints. Also, you will be getting plenty of fiber and protein with every bite. You can make your own cookie dough freezer fudge here.
Pumpkin Pie Squares
If you're looking for an anti-inflammatory dessert that is both healthy and vegan, pumpkin pie squares are for you. These are an excellent treat during the fall season but can be enjoyed at any time of the year. The pumpkin will help support your healthy eyesight and skin, while the ginger and cinnamon act as powerful anti-inflammatory agents. You will be supporting a body that feels great thanks to these spices reducing the amount of inflammation in your body. You can quell your cravings by following the recipe here.
Avocado Chocolate Mousse
If you enjoy dense, decadent, and silky-smooth desserts, you will love avocado chocolate mousse. Yes, avocado is technically a fruit and can be part of a dessert. The rich texture of avocado brings more to the table than its creaminess. Avocado is also a potent anti-inflammatory fruit, which will be something your joints will be begging for you to eat. This special mousse is something you have to try, even if you aren't usually a fan of avocados. You can make avocado chocolate mousse by using this recipe.
Peanut Butter Cups
Who doesn't like peanut butter cups? However, instead of buying the unhealthy variety in the store, you can opt for making your own healthy version. When you make your own, using just four ingredients, you get peanut butter cups that are packed with antioxidants, healthy fats, and anti-inflammatory ingredients. The peanut butter, coconut oil, cacao powder, and maple syrup together create an amazing anti-inflammatory dessert that you'll want to keep making again and again. Make these peanut butter cups using this recipe.

Fudgy Brownies
One of the most iconic desserts out there is brownies. You may be surprised to find them on this list, but they can actually be one of the anti-inflammatory desserts you can enjoy. This is due to the dark chocolate used in them. Without all the artificial ingredients you get in the store-bought brownie mix, you can get fudgy brownies that will actually be able to reduce inflammation in your body. What's more, these brownies can even help you shed some body fat. You can start making these paleo fudgy brownies by using this recipe.
Homemade Twix Bars
The Twix bars you can get in the store are not anti-inflammatory. In fact, they can increase the amount of inflammation in your joints. However, there is a healthy homemade version of Twix bars you can enjoy. Instead of refined sugar, you will be using maple syrup, which has both anti-inflammatory and antibacterial properties. This is a great option if you are particularly fond of Twix bars but wish you could have a healthy version of them. You can make your own using the recipe here.
Almond Coconut Macaroons
One other anti-inflammatory and paleo dessert is a batch of delicious almond coconut macaroons. Combining almonds and coconut will create a healthy treat that can be enjoyed whenever you feel like it. Given how small and dense these are, you can just have one and have your taste buds feel satisfied. The natural honey sweetener is rich in antioxidants and anti-inflammatory compounds, making this a great anti-inflammatory dessert to make at home. You can get the recipe for these macaroons here.
Wrapping Up
Don't wait until joint pain sets in. You can implement strategies for health and wellness over the long term. An active lifestyle, combined with a healthy diet and quality health supplements is a great way to help you keep moving!
* These statements have not been approved by the Food and Drug Administration. This product is not intended to diagnose, treat, cure, or prevent any disease.
SOURCES:
https://www.betterhealth.vic.gov.au/health/conditionsandtreatments/ageing-muscles-bones-and-joints
https://orthoinfo.aaos.org/en/staying-healthy/effects-of-aging/
https://www.healthline.com/health/osteoarthritis/understanding-aging-and-joints
https://health.clevelandclinic.org/5-best-ways-to-safeguard-your-joints-as-you-age/
https://www.healthline.com/health/improving-mobility-in-old-age
https://hcamidwest.com/blog/entry/aging-bone-joints
https://www.mayoclinic.org/healthy-lifestyle/fitness/in-depth/what-it-takes-to-be-agile-at-any-age/art-20390071
https://www.mountsinai.org/health-library/special-topic/aging-changes-in-the-bones-muscles-joints
https://www.webmd.com/pain-management/features/common-pains-of-age
https://www.bannerhealth.com/staying-well/expert/joint-pain-aging
https://www.physio-pedia.com/Effects_of_Ageing_on_Joints
https://orthoinfo.aaos.org/en/staying-healthy/smoking-and-musculoskeletal-health