With the summer months just around the corner, many homeowners are looking to give their homes a spring clean. This is a great chance to clear away that clutter that has been building up in your rooms and give your property a fresh new look.
However, did you know that a spring clean can also transform your health? That's right, focusing on cleaning your home will not only ensure your home is looking its best, but it can also boost your health and keep you feeling good.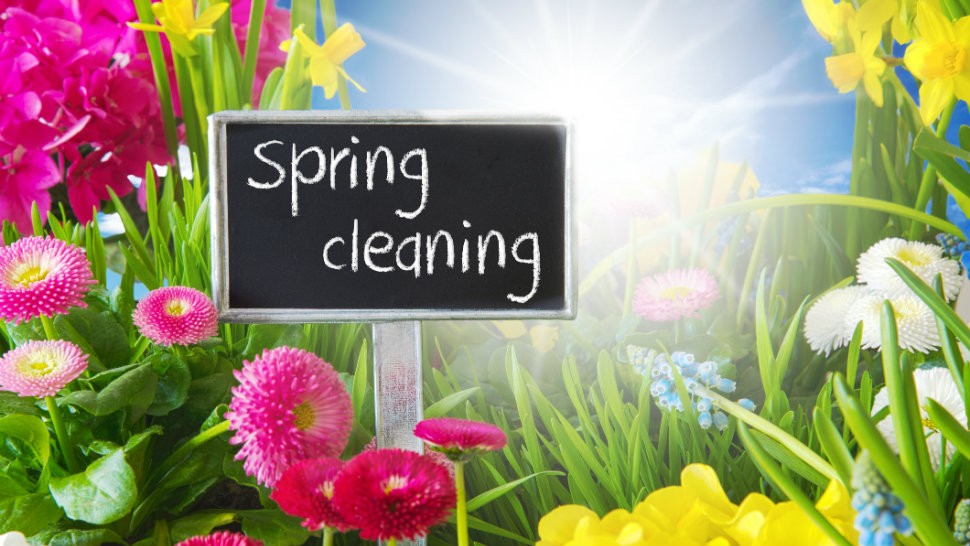 What are the benefits of spring cleaning for your health, though? We thought we would take a closer look at how cleaning your home can help your health.
Why do we spring clean?
Before we take a look a look at the many health benefits that can come from a regular spring clean, we thought we would first take a look at why we spring clean. The phrase is incredibly common and has been used for decades, but where did it come from?
Spring cleaning is the term used for a comprehensive cleaning of your home, going through each room thoroughly. This involves tidying away clutter, vacuuming and washing your floors, dusting behind furniture, and cleaning everything you can.
While it is a very common process in modern culture, the tradition of spring cleaning actually dates back over 3,000 years. Back then, when homes were heated by fires, a spring clean marked the time when heating was replaced by warm weather, giving homeowners a chance to brush away the dirt and dust that accumulated over the winter.
Further research also shows that spring cleaning was also a very common practice in the Jewish culture. It marks the period where homeowners cleanse the home ahead of the spring-time memorial of Passover. Another link to spring cleaning is the Iranian Norouz, which is the Persian New Year and typically falls on the first day of spring.
What are the health benefits of a spring clean?
A spring clean is a fantastic way to keep your home looking its best ahead of the summer, but it can also transform your health. There are many benefits to conducting a thorough clean of your home, including:
Improve your immune system
One of the biggest benefits of a spring clean on your health is that it can help you to improve your immune system. Seasonal allergies are incredibly common, as are other conditions such as asthma, and things such as pollen, dust, pet dander, mold, and mildew can all impact the body in different ways.
These can trigger responses in our immune system that can result in sneezing, rashes, and other respiratory conditions. The more cluttered your home is, the more likely that these kinds of pollutants will gather over the winter months, which can make your symptoms worse. In fact, research has shown that the pollution inside the home can actually be worse than outside!
While a spring clean can reduce the number of contaminants in your home, for the best results, you should focus on keeping your home free from dirt and dust throughout the year. Regularly vacuuming your carpets, washing your floors, and cleaning your upholstery can remove these harmful pollutants. You should also make sure that you are regularly cleaning areas where dampness could develop, such as bathrooms and kitchens, to reduce the risk of mold.
Stress is on the rise and can significantly impact your mental and physical health. Spring cleaning is a great way to help you take your mind off of the hustle and bustle of modern life and give you a chance to relax and unwind.
Even though a spring clean might seem like a repetitive chore, it is actually a great way to de-stress. Research has shown that just 20 minutes of housework is able to reduce anxiety and stress by up to 20%.
Of course, cleaning your home is not just about minimizing stress. A home free from clutter can also help you to declutter your mind, and using products that include calming scents such as eucalyptus and lavender can help to take that further.
A spring clean is not only good for your mental health, but it can also boost your heart health. Regular exercise is crucial to helping reduce the risk of developing an array of dangerous chronic illnesses, such as heart disease.
While you might think that in order to get fit you need to spend hours at the gym, that is not always the case. A comprehensive clean of your home can help you to burn calories and improve your fitness, with studies showing that a 30-minute clean can burn up to 111 calories, reducing the risk of cardiovascular disease.
Improving your health not only boosts your cardiovascular health but can also transform the discomfort you feel from other conditions such as arthritis.
Are you struggling with your sleep? A spring clean is a great way to help you sleep better at night. Not only will the physical exercise of working out help to wear you out so you will be tired, but clean sheets and making your bed can significantly improve your night's sleep.
Regular cleaning of your home is also a great way to boost your productivity. Having your home filled with clutter can be a major distraction that reduces your ability to focus on the tasks at hand.
Research has shown that cleanliness and clutter can impact how your brain processes information, so decreasing the amount of clutter in your home can transform your output.
Encourage a healthier lifestyle
Keeping a clean and tidy home is also a great way to develop positive habits that can transform your entire lifestyle. Studies have shown that maintaining a clean space is more likely to lead to you opting for healthier choices in terms of the food you eat and exercise.
This will help you to lose weight and stay healthier, which can have a big impact on your life, reducing symptoms from conditions such as arthritis and chronic pain.
Looking to improve your symptoms further?
Are you finding that your arthritis is holding you back from completing your spring clean? Here at JointFuel360, our mission is to help alleviate pain, improve flexibility, and reduce inflammation, allowing you to get around with ease.
Our 100% drug-free solution works from within to help you develop stronger joints, reducing the impact that arthritis has on your life. Getting to work in as little as seven days, JointFuel360 is a long-term solution to help you to reduce discomfort from arthritis. Click here to get an exclusive reader discount.