Many people know turmeric as a spice that gives curries their deep, golden color. What people might not know is that turmeric has a long history of use in Eastern medicine for its range of health benefits. Modern research also suggests that curcumin, a natural chemical compound in turmeric, has powerful anti-inflammatory properties that may benefit those suffering from arthritis. Plus, turmeric is known to be a potent antioxidant with antimicrobial and anticancer effects.
Therefore, you're probably wondering what the best way is to incorporate this healing spice into your diet. That's exactly what we'll be sharing today! Here are six healthy turmeric recipes that will help you fight back against inflammation and reduce the soreness, stiffness, and pain associated with arthritis.
Note: You'll notice that all of the recipes include black pepper. That's because research shows that combining piperine, a bioactive compound in black pepper, enhances curcumin absorption by up to 2,000 percent!
Turmeric Recipes for Arthritis
Turmeric Tea
If you're looking for an easy, delicious way to add this spice to your life, look no further than this turmeric tea from Downshiftology. This tea has a pleasant, mild flavor and can be enjoyed any time of day. It's a simple recipe, yet provides a hearty dose of antioxidant-rich, anti-inflammatory, and immune-boosting compounds.
Ingredients:
½ teaspoon ground turmeric (or 1 ½ teaspoons of grated fresh turmeric root)
¼ teaspoon black pepper
2 tablespoons lemon juice
2 cups water
2 teaspoons raw honey
Directions:
Add all of the ingredients to a small pot and whisk together.
Heat on high just until the tea starts to boil.
Turn the heat down to medium-low and simmer for ten minutes.
Pour and enjoy!
Golden Milk
Golden milk is a traditional Indian drink that is touted for its healing, anti-inflammatory properties. This recipe from Nutrition Stripped is creamy, dairy-free, and perfect for cozy nights cuddled up with a blanket. Although turmeric is the star of this drink, other spices in golden milk, including ginger and cinnamon, also provide anti-inflammatory benefits.
Ingredients:
2 cups almond milk
1 tablespoon raw honey
1 tablespoon coconut oil
1 teaspoon ground turmeric
1 teaspoon ground cinnamon
1 small pinch of black pepper
1 small pinch fresh, grated ginger (or 1 tsp ground ginger)
Directions:
Pour all ingredients into a small saucepan and whisk together.
Bring to a light boil.
Reduce heat to low and simmer for up to ten minutes.
Pour and enjoy!
Golden Milk Oatmeal
Can't get enough golden milk? You have to try this delicious golden milk oatmeal from Lively Table! This super-easy recipe is anti-inflammatory and a great option for breakfast, especially on chilly mornings.
Ingredients:
2 cups almond milk
1 tablespoon raw honey
1 tablespoon coconut oil
1 teaspoon ground turmeric
1 teaspoon ground cinnamon
1 small pinch of black pepper
1 small pinch fresh, grated ginger (or 1 tsp ground ginger)
1 cup rolled oats
Directions:
Put all of the ingredients besides the oats in a small pot, whisk to combine, and bring to a boil.
Reduce heat to low and add oats. Cook until oats have absorbed all of the liquid (about five minutes).
Serve and enjoy!
Turmeric Smoothie
This refreshing, anti-inflammatory turmeric smoothie by Happy Healthy Mama is perfect for those warmer summer days. It's naturally sweetened with pineapple and mango and has a wonderful, creamy texture. The coconut oil included in this recipe helps curcumin enter the bloodstream and bypass the liver for optimal absorption, so don't forget that ingredient!
Ingredients:
1 teaspoon turmeric powder
1 cup frozen pineapple
1 cup frozen mango
1-1 ½ cups water
1 teaspoon coconut oil
1 teaspoon fresh, diced ginger
A pinch of black pepper
Turmeric Dressing
Looking for a tasty, nutritious dressing to drizzle on your salads, roasted veggies, and proteins? Check out, this turmeric dressing by Unbound Wellness is a must-try! Containing ingredients like turmeric, ginger, and olive oil helps soothe inflammation in the body—something that all arthritis sufferers could use.
Ingredients:
1/3 cup coconut cream
½ cup olive oil
1 tablespoon fresh lemon juice
1 teaspoon turmeric powder
½ teaspoon ginger powder
2 teaspoons fresh, chopped parsley
½ teaspoon sea salt
1/8 teaspoon black pepper
1 teaspoon raw honey
Directions:
Pour the coconut cream and olive oil in a tall glass and use an immersion blender to fully combine.
Add the other ingredients and blend with the immersion blender until smooth.
Drizzle over your food and enjoy!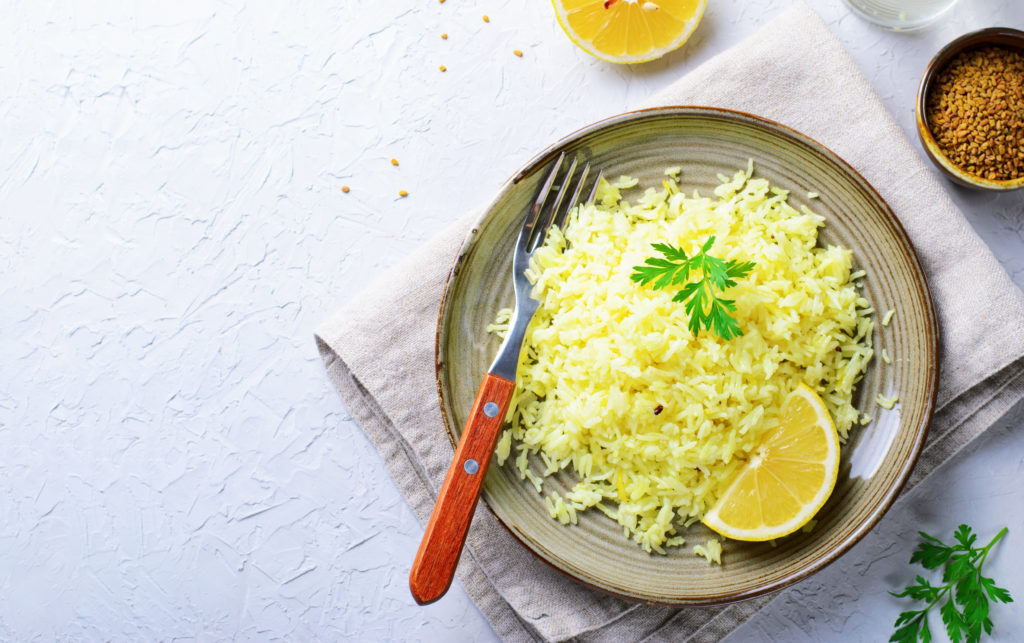 Turmeric Rice
For something on the heartier side, whip up this inflammation-busting turmeric rice. A healthy, vegan side dish like this one is simple to make and perfect for a weeknight dinner.
Ingredients:
1 ½ cups white Basmati rice
2 tablespoons olive oil
2 garlic cloves, minced
1 onion, finely chopped
1 teaspoon turmeric
1 teaspoon black mustard seeds
1 bay leaf
600 ml (2 ½ cups) vegetable stock
A pinch of black pepper
Salt to taste
Fresh cilantro to serve
Directions:
Rinse the rice with water and set aside.
Heat the oil in a medium-sized saucepan. Add the chopped onion and sauté until softened (about five minutes).
Add the minced garlic, bay leaf, mustard seeds, and turmeric. Mix together and cook for a couple more minutes until fragrant.
Add the basmati rice and stir in well to mix with the onion and spices.
Pour in the stock and mix. Bring back to a boil and cover the pot with a lid. Reduce to low heat and let the rice simmer for about ten minutes.
Take the pan off the heat and fluff the rice with a fork. Put the lid back on and let the rice stand for about five minutes.
Garnish with cilantro, serve, and enjoy!
Another way to get your daily dose of turmeric
In addition to whipping up the above recipes, another easy and effective way to consume turmeric is by taking a supplement. JointFuel360 is an oral supplement that combines research-backed, anti-inflammatory ingredients including turmeric root, Boswellia serrata extract, resveratrol, collagen (type II), black pepper extract, and hyaluronic acid. These ingredients work together synergistically to improve joint comfort, mobility, and flexibility so you can live a healthier, happier life.

The bottom line to Turmeric Recipes to help with Arthritis
With its powerful anti-inflammatory properties, turmeric may benefit a number of health conditions, including arthritis. Turmeric, which gets its medicinal superpowers from the compound curcumin, not only fights inflammation, but also boosts the body's antioxidant enzyme activity and may even help ease depression. In short, with so many incredible health benefits to gain, regularly consuming turmeric is something everyone should aim to do, especially for those with inflammatory conditions like arthritis.
References:
https://pubmed.ncbi.nlm.nih.gov/22407780/
https://www.ncbi.nlm.nih.gov/books/NBK92752/
https://pubmed.ncbi.nlm.nih.gov/9619120/
https://www.ncbi.nlm.nih.gov/pmc/articles/PMC3535097/
https://pubmed.ncbi.nlm.nih.gov/23832433/